Unleash Your Timeframe Ideas
Flexi Bar is a live period converter for MT4.  It generates an offline chart and lets you select any time frame, from a single second to weeks, with a single second resolution. So you can easily select not only charts with period of  M10, H2 or H8, but you may have also 1-second, 5-second, M2,  M90, actually any timeframe.
In addition, With the session switch on you can fix your timeframes to fit into trading sessions, like H4 starting with your broker session.
The quality of time display depends on a tick recording supply (ticks are recorded by all indicators from Omnia series).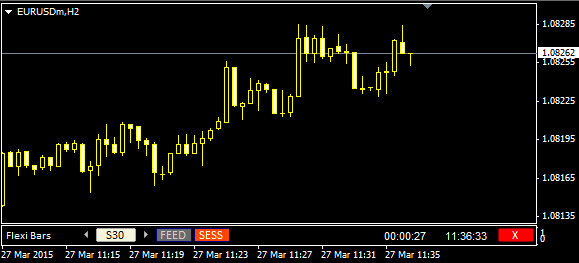 Precise and Fast and Non-Repainting.
Indicator is based on live price feed. Once the price tick arrives, it is recorded and used in all subsequent indicator sessions. Fine data is used only where reasonable, keeping performance at a high level and preserving the data used in previous calculations.

Wide Range of Parameter Values.
Indicator uses multiple timeframes history, from a week level down to a tick level, ensuring high speed and accuracy for many different input settings.

Controlling Performance by a User.
Limiting the initial chart length to a fixed number of bars enables user to control chart performance in a defined manner. Moreover, if necessary, indicator can reduce frequency of chart updates.

Graphical User Interface.
Settings for deployed generators are accessible directly in the chart, both the feed chart and the generated chart. Accessing settings from the generated chart makes parameter handling comfortable.
Installation Guide and First Steps
Watch the video to learn how to install and use the Flexi Bars chart.
What are additional features of Ovo offline generators?
the generator is an indicator rather than a script or EA, which makes it more comfortable for deployment
input setting is adjustable from multiple places: from the input dialogue, or from the entry box of an indicator sub-window, or from the offline chart using additional indicators (Omnia Remote, Omnia Auto Range). Settings on the offline chart makes the range switching as flexible as switching between timeframes.
safe timeframe switching of the feed chart  (no need for sacrificing the feed chart for a single timeframe)
generator can detect and optionally break chart into trading sessions
generator uses all available timeframes for the initial model, and it is not bound to a single selected timeframe
when starting up, the indicator selects the chart starting anchor from the user-defined chart candles count
a single indicator can serve multiple identical offline charts (a single chart ID in multiple windows)
detects significant drop-outs in feed and rebuilds the offline chart after the feed updates
displays consistent candle tick volume calibrated to regular timeframes, so you may rely on the tick volume in your analysis and EAs
guards for a change of the feed server, so it updates the chart if you switch between accounts
works properly with symbols having MQL unfriendly names (like "EURUSD..", i.e. trailing double dot in the name)
reports unexpected time gaps in the MT4 history, reports inconsistencies between symbol timeframes
excludes phantom (no volume) ticks
fixes incorrect input for a non-trivial instrument tick size
can decrease chart refresh rate on demand
indicator development is still open, you may expect fast fixes for new Metatrader builds